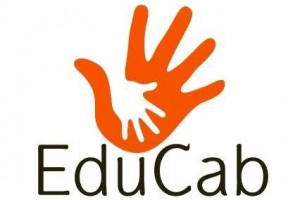 -          Beginning of 2013: the concept behind EduCaB is drafted; it's not an NGO, it's a platform, it's intended to be a model of local development, by building capacity at the level of established / existing structures.
-          Spring of 2013: the concept is started to be tested as the Volunteering/CSR program of Ipsos Romania (the fourth largest research company in the World), starting with one county, i.e. Dambovita. The model was integrated into a larger organizational growth model;
-          Summer – winter 2013: established the contact with the district library, assessing the needs of over 100 libraries, in terms of book collections, physical infrastructure, and learning / educational programs; first projects started in pilot library, Crangurile;
-          January 2014: in Nepal, along with Dutch and Nepali partners, first field visit and brainstorming for testing the concept also in rural Nepal;
-          February 2014: the 'EduCaB' name is first given to the concept started in Nepal, i.e. Educational Capacity Building in Rural Nepal;
-          Spring 2014: first discussions to form an EduCaB team to test the concept in Uganda; we have the team;
-          April 4th, 2014, EduCaB logo was ready, cooked by Neti team in Timisoara / Romania; here how it was introduced on Facebook: 'It's about two things: 1. in these kinds of processes & projects there is no clear borderline of who is actually giving and who is actually receiving, and 2. the fact that we strongly believe and know that we are intricately connected, beyond our nationalities, races, opinions & believes, and various preferences.'
-          September 2014, the pilot library is launched in rural Nepal, in Dhading district, west Kathmandu, with a couple of hundreds of books sent from Romania, US, the Netherlands, but also from Belgium, Bulgaria, UK, and Germany; this is what we did; the local partner was in charge with the overall communication at local level, providing the furniture and pillows, sending the future librarian to certified training courses, and receiving the books; the local rural community was in charge with providing the space and arranging the library area. It was a true partnership;
-          February 2015, large-scale event at Impact HUB in Bucharest presenting the results of the two years model testing within Ipsos Romania Volunteering/CSR program in Dambovita; the goal was to scale up and go national, inviting other organizations, institutions, companies to get on board;
-          March 2015, eight more EduCaB teams were formed – we are now already nine counties in Romania; three counties have EduCaB teams from Ipsos, one from Ginger Group / Romanian National Bank, one from Leroy Merlin, one from AID-ONG, one from Preventis, and one from an environmental informal group.
-          March 2015, the name 'Romania EduCaB' is first used to define the newly formed national platform in Romania; the international platform has now two active countries, i.e. Nepal and Romania;
-          April 2015, nine more communities from Dhading district were interested in starting EduCaB concept, the local partner plans going to the area and signing the official agreements;
-          On the 25th of April a massive 7.8Mw Earthquake hit Nepal; on the 2nd of May the EduCaB team gets to Dhading, and along with the local partner is securing shelter for around 1,200 persons, 1 tone of food, and professional medical assistance for around 600 persons; the school building with the library remained intact; the medical services were secured using the library space;
-          €37,277 were raised in April-May (from private companies and individuals); all funds were used through the local partner to cover subsequent expenses related to first aid interventions; one month until the Monsoon;
-          May and June 2015, a first temporary school is built in the pilot village in Nepal, other dozen of houses were provided with tin roof bundles;
-          June 13th 2015, Bangladesh EduCaB is established, aimed to firstly support finalizing the construction and launching of the first fully private funded library in Bangladesh – Masud Parves Library;
-          Middle June 2015, the Monsoon starts in Nepal, we have to stop most of the interventions;
-          September 2015, first discussions for starting Senegal EduCaB, the team is secured;
-          Middle September 2015 we have hired a team of architects from Kathmandu to make the plans for a whole school campus we will build in pilot village in Nepal;
-          September 2015, oil blocade imposed to Nepal by India, our plans to start the construction works after the Monsoon, are delayed;
-          End of September 2015, €1,000 are raised for Nepal EduCaB in a private fundraising event we've organized in Dordrecht, through the local partner in the Netherlands;
-          October 2015, national conference at the National Library in Romania for launching a national campaign for covering the needs of all the 626 libraries in the nine counties we are covering; we give ourselves 5 years for this; we start with one big event to calibrate and learn; and make mistakes;
-          October 2015, €20,000 are raised for Nepal EduCaB in Romania via Ipsos Interactive Services / I-Say community;
-          October 2015, an EduCaB team is formed in Constanta, through the Civic Resource Centre. This is the 10th county to implement the EduCaB methodology & concept;
-          December 7th, a fundraising event is organized in Bucharest for Bangladesh EduCaB, more than €1,000 were raised, enough funds to finalize the construction works and launch the library, four years after the project was officially initiated;
-          21st of December 2015, the official end of the national campaign in Romania, with over 35,290 volumes invested, over 42 companies, NGOs, publishing houses, bookstores, informal groups, universities, schools and public institutions involved to raise books within their own organizations; over 1,300 persons all over Romania investing personal books for the campaign; 128 PCs and laptops given to activate computer centers within libraries, over 858 furniture pieces collected to be given to the local public libraries; over 210 volunteers directly involved in growing this campaign;
-          January 2016, only one year and a half after launching, the pilot library in Nepal ranked 1st among the 45 libraries from Dhading district (in terms of the quality of the titles, their numbers, condition, the ergonomics of the space);
-          February 2016, Masud Parves Library, the first EduCaB supported library in Bangladesh is launched, in the presence of the EduCaB team; it's very hard and takes long time to get there; very long time;
-          February 2016, field visits were made in Vietnam and Malaysia, networking for establishing EduCaB hubs in Hoi An (Vietnam) and two remote areas in Malaysia (not yet decided);
-          February-March 2016, discussions were started to start EduCaB in two more counties in Romania, i.e. Alba and Brasov;
-          March 2016, Indonesia EduCaB is established, with pilot project to be tested in rural area of the Flores island.